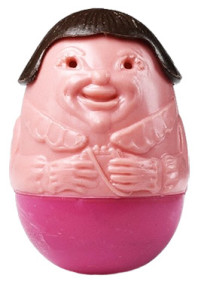 Last week I attended the We Own It Summit in London, about increasing women's participation in high growth entrepreneurship.  Sally Krawchek, who Fortune magazine called 'The Last Honest Analyst' before her high-profile departure from Bank of America during a contentious management shake-up, was a main speaker. She encouraged the audience to, in our darkest hours, to "Be Weebles' citing the beloved children's toy I fondly remember. As some may remember; 'Weebles wobble but they don't fall down.' Resilience is the key in the face of adversity. Putting her money where her mouth is, Sally recently bought 85 Broads, a 30,000 strong professional female network, which no doubt will go from strength to strength now that she is at the helm.
Resilience is a big theme for me. Earlier in the day I'd spoken with a friend, Kimberley Cole, of Thomson Reuters, who shared the advice her daughter's school had given parents. When a child succeeds, comment on how hard they worked rather than how clever they must be. Children who believe they are capable of hard work, as opposed to just being naturally bright, will continue to set the bar higher for their achievements. Children who are brought up to believe they are 'just clever' don't continue to challenge themselves, almost believing there is a natural limit to their intelligence – and not a ceiling they want to hit. Kimberley and I agreed hard work, resilience and persistence trumps all.
This all hit home for me because of a recent coaching session. My client, an academically brilliant woman, had just received bad news she wasn't getting a job she'd been counting on. This 'failure' completely overwhelmed her. While she'd known for several weeks, she was still frozen in action and spent most of the call in tears. We worked through some options for her, but most importantly she admitted she had never 'failed' in her life.  Like many of my clients, she had put the work in over her schooling and in her career, but had never faced much adversity. She had never learned how to be resilient – a quality she now knew she would need as she progressed. I will tell her about my experience with Sally Krawcheck, because if there is one thing successful people need, it's to become Weebles…and not fall down.