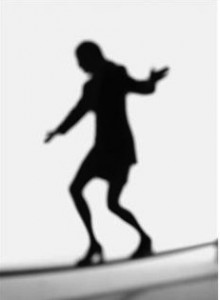 I recently spent the day talking about the need to take risks for a successful career with a group of female Doctors for a NHS Leadership conference. What is so interesting is that most women, when first asked, will shy away from thinking of themselves as risk-takers. However, when they begin to explore the history of their career and even personal life, many of the most interesting and rewarding roles came out of a big risk. One female CEO I interviewed for my first book Beyond the Boys Club remarked that while she had developed a reputation for taking on challenges – "I think my career has been defined by probably just 2 or 3 big risks. I just had to deliver on the dew I chose."
Rather, the challenge is in determining the difference between a "Glass Cliff" and a great opportunity.  Christine Lagarde, MD of the International Monetary Fund remarked on risk taking when speaking at Davos recently. She felt that while women may be increasingly willing to take risks in their career, companies are not always willing to take a risk on female leadership. Instead they wait until a situation has reached crisis point. As described in the Telegraph, Lagarde said: "Women generally get the job when it's … a basket case, a lost cause – and they turn it around," she said. Ever politically astute, she held back from making any mention of her own appointment to head the global lender and watchdog, at a time when the world economy is mired in crises.
Often, I work with clients when they are judging if a new opportunity will jump-start their career or be a glass cliff. If you are considering a glass cliff, ask yourself the following questions:
1. Who was in the role before – and how did they leave?
2. What's the average length of time someone stays in this role?
3. What kind of public support have I been given and what kind of resources will I have?
Shining a light on these answers can help you determine where the fact meets fiction on a new challenge.