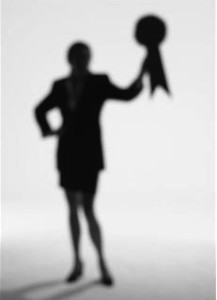 I was recently sent a great piece on the value of looking beyond the 'usual suspects' in the Top 100 Rising Stars of the Legal world in The Lawyer from a proactive subscriber to our Female breadwinners monthly report. When I got the article, I had just come off the phone from a corporate client who wanted to ensure we target all women in our efforts for gender balance, not just the rising stars who are readily visible. I agreed, but it seems according to this article that even getting some firms to realise there are women amongst their top talent is a challenge in itself!
The team at The Lawyer responsible for compiling the list, which comes complete with video interviews with each high-flyer, explained their pride in making the list gender balanced amongst the Top 100, but also the challenges on how people were nominated. They wrote: "Even better, we've got 46 women this year. And here's the thing: not one of them put themselves forward. When lawyers blithely talk of meritocracy when it comes to gender in the law, consider this: One household name firm nominated five lawyers. All were men. We ignored their submissions, by the way, and went with our own research; the female lawyer we picked is outstanding in every way. When we mentioned her name to senior people within the firm they collectively clapped their hands on their foreheads and agreed: yes, she was indeed a superstar, both in client work and in mentoring younger members of the team. And yet, this firm at no point realised that it had ignored an entire gender in submitting its nominations. The fact that we got to 46 women in the Hot 100 isn't because we had institutional help. We went out there and found them. What does that tell you about the invisible barriers senior women face in the workplace?" Very well observed.
It seems we still have some way to go in getting senior management to recognise the potential female stars in their midst, particularly when putting people up for visible awards and accolades. When thinking through nominations for industry or internal awards make sure you advocate for other women. It's also dismaying not a single woman nominated herself, which indicates we clearly need to become more comfortable with self promotion! Finally, think through who else you could nominate when these awards pop up in your inbox. Nothing builds a relationship faster than publicly declaring an admiration for the work of someone else!