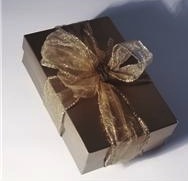 As the holiday season approaches, I'm reminded of a conversation about holiday gift shopping I had with a woman I met when writing 'Female Breadwinners: How They Make Relationships Work and Why They are the Future of the Modern Workplace'. 
There was a small part of her that 'resented' her husband used her money to buy her gifts. Initially, I empathised with managing contrary feelings about money in these thoroughly modern relationships. But as I began to mull on it (no holiday pun intended!) I realised how antiquated it would sound for a man to say that about his stay at home wife, and the gifts she buys him… particularly when the likelihood is that she has done the lion's share of everything else, the cooking, the planning, the shopping to make the rest of the family's holiday season jolly.  To be fair, she did all those festive activities plus was the primary earner so I could see how being responsible for everything could rankle. She'd certainly be better off if she thought of it as 'our' money rather than 'his' or 'hers'.
In our house at Christmas, we've increasingly moved towards a system whereby we set a fairly low limit on 'wrappable gifts' between my husband and I, but then we splurge on an activity, a trip or something for the house. I realised it would be slightly disingenuous to buy him a European city break for us both and then expect a separate gift from him. Our tip? Limit your spending individually and treat yourselves to something you'd both enjoy. You can even take turns to plan the surprise element for a bit more Xmas morning magic. That way you know you're likely to get something that you'll both love and you won't get a sinking feeling when you wonder where's he getting the money for those diamond studs!