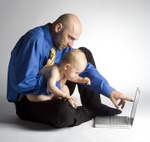 I recently saw a fantastic article about the increasing prevalence of stay at home dad's by Carol Hymowitz entitled "Behind Every Great Woman". The article shares stories about men who have taken a step back to enable their wives shine at work. As you know, this happened in my own relationship – and if you are reading this – is likely to be your personal set-up as well.  As Hymowitz explains: " When Carly Fiorina became Hewlett-Packard Co.'s first female chief executive officer, the existence of her househusband, Frank Fiorina, who had retired early from AT&T Inc. to support her career, was a mini-sensation; now, this arrangement isn't at all unusual.
Seven of the 18 women who are currently CEOs of Fortune 500 companies — including Xerox Corp.'s Ursula Burns, PepsiCo Inc.'s Indra Nooyi, and WellPoint Inc.'s Angela Braly — have, or at some point have had, a stay-at-home husband. So do scores of female CEOs of smaller companies and women in other senior executive jobs. Others, like International Business Machines Corp.'s new CEO, Ginni Rometty, have spouses who dialed back their careers to become their powerful wives' chief domestic officers." And certainly every household needs one – particularly the longer the lead earner works.
As program director at the Alfred P. Sloan Foundation, Kathleen Christensen has focused on work and family issues and says we're back to the 1950s, only "instead of Jane at home, it's John. But it's still one person doing 100 percent of work outside the home and the other doing 100 percent at home." Just as we saw the Feminine Mystique in the 1960s among frustrated housewives, Christensen predicts, "we may see the Masculine Mystique in 2020."
And yet the trend underscores something else: When jobs are scarce or one partner is aiming high, a two-career partnership is next to impossible. Juggling two demanding jobs within one family is  time-consuming and difficult, you
can't have two spouses doing them and maintain a marriage and family.
She continues by setting the scene for this transformation in an American context: "This role reversal is occurring more as women edge past men at work. Women now fill a majority of jobs in the U.S., including 51.4 percent of managerial and professional positions, according to U.S. Census Bureau data. About 23 percent of wives now out-earn their husbands, according to a 2010 study by the Pew Research Center. And this earnings trend is more dramatic among younger people. Women 30 and under make more money, on average, than their male counterparts in all but three of the largest cities in the U.S., according to Census data." While maternity leave is far more generous in Europe than it is in the U.S – countries like the UK and most of mainland Europe still haven't  adapted to this demographic shift.
Hymowitz wonders:  "Is there an alternate universe where both parents can pursue careers without outsourcing child care? The five Nordic countries — Iceland, Norway, Sweden, Finland, and Denmark –are noted leaders in keeping moms, in particular, on the job." She looks at what policies help drive these advances in Scandinavian countries.
"These countries have made it possible to have a better division of labor both at work and at home through policies that both encourage the participation of women in the labor force and men in their families," says Saadia Zahidi, co-author of the World Economic Forum's Global Gender Gap Report. The policies Zahidi refers to include mandatory paternal leave in combination with maternity leave; generous, federally mandated parental leave benefits; gender-neutral tax incentives; and post-maternity reentry programs.
We talk more about managing nontraditional relationships in Female Breadwinners: How They Make Relationships Work and Why They are the Future of the Modern Workforce. You can get your copy here.