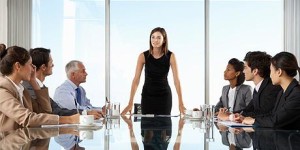 The news is full of a call to action for more women on corporate boards, a move we at Female Breadwinners would wholeheartedly like to see. However, with the push for women at the top, we think politicians are missing a trick. The vast majority of people get their initial management experience within SME's – and we think more should be done to encourage women entrepreneurs not just to start, but to grow their own businesses.
According to Office for National Statistics self-employment data, women are much less likely than men to be involved in the setting up and running of businesses. Of the 4.2 million people in the UK who report that they were self-employed, 71% were men and 29% women. While this may seem low, it is still an improvement on the percentage of women on boards. These women make up just 7% of Corporate Executive Directors.
James Caan, entrepreneur and Chairman of the Start-Up Loans Company, recently wrote on gender diversity and women in leadership:  "Interestingly, I've noticed that women approach business differently to their male counter-parts. They're known to be a lot more cautious and intuitive, and I find that this can add a new dynamic to a business…If more start-ups are created by women, it will result in an increase in the number of women in the boardroom."
By motivating all young people to dream big and by supporting women with brilliant ideas through funding and mentoring we can increase the number of women CEOs. This will give the world better innovations like Slide Share, co-founded by CEO Rashmi Sinha, and Wildfire which was co-founded by CEO Victoria Ransom. Once the proportion of women entrepreneurs increases, larger corporates will have to respond just to maintain market share as their client base changes, a move that most proactive professional services and finance houses are already making. Boards should reflect the customer demographic they are increasingly serving as a matter of common sense.
Credit Suisse research from 2012 entitled: 'Gender diversity and corporate performance', looked at nearly 2,400 American companies with and without women board members between 2005 and 2012. Their report discovered that the stock of companies with at least one woman board member outperformed the stocks of companies with all male boards by 26% during that period. But beyond the data, common sense tells us that when there is diversity of thought and diversity of leadership styles there is better management and sustainable growth… and that's great news for both men and women.