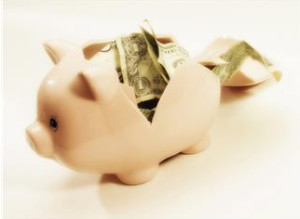 At Female Breadwinners, we encourage women to take more control over their family's finances – especially in investments and savings. In dealing with thousands of male and female clients, we have found that women are more prudent and cautious in their investment strategies. They hold onto stocks for longer, perhaps cynically because they often have less time to 'watch the market'.
Certainly my own experience mirrors this. My husband loves to watch his stock portfolio move and will fill me in on the lurid details, while I just keep sending in my monthly cheques to my pension plan, salting it away like my mother taught me.
The long-term benefits of "investing like a girl" are now being backed up by research. A seven-year study by the University of California found single female investors outperformed single men by 2% percent and female investment groups outperformed male counterparts by 5%.  Male investors were found to be trading 45% more than women, leading to more bad decisions and lower performance.
Men are often overconfident investors looking for one-upmanship in their stock picking. As LouAnn Lofton, author of  "Warren Buffet Invests Like a Girl: And Why You Should Too: "With men, too often investing is all about keeping score. It's a macho thing. They're looking for hot stock tips to get the quick win and then talk about it."
This overconfidence has dire repercussions. A Washington Post article on Behavioural Economics mentions: "Women are more loss averse than men, more emotionally unattached and are far quicker to unload losers [losing stock]. Whereas men with their bravado, they don't want to admit they're wrong."
Financial organisations would do well to have a few more cautious traders on their floors. Hiring more women would mean less overtrading of accounts, more long-term planning and less volatility. For example, Britain's Parliamentary Commission on Banking Standards (which studied the 2008 crash) recommended this strategy, including gender diversity in banking and stringing out bonuses over longer periods of time. Seems like the smart money is in investing like a woman, just like Warren Buffet.
Does your approach to investing differ from the men in your life?