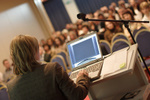 It is vital to investigate this shift because the future of the workforce of tomorrow is increasingly female. Female breadwinners, though largely invisible, are more common than people anticipate and on the rise. Watch the short video clip below to see proof of this. Only two of the twelve job titles expected to grow between 2008 and 2018 are dominated by men: accountant and construction worker.
In fact, the vast majority of job growth is in fields currently favoured by women, such as teaching, nursing, home health support and customer service. These fields are not as well paid as those previously dominated by men. However, it does indicate that the number of households with a female breadwinner will inevitably increase.
Indeed, the number of women already in this category is a large minority. According to 2010 research from the Pew Centre, 22 per cent of American women are now earning more than their husbands. This is a more than fivefold increase from 1970 when it was just four per cent.
Similarly, out of all the cohabiting heterosexual couples in Britain where one partner earns more than the other, it was the woman who was the main breadwinner in 25 per cent of the cases by 2007. This is a substantial increase on the five per cent recorded in 1969. Indeed, Grazia's Women and Work survey of professional women in 2010 suggest the number is closer to 30 per cent.
We can tell a lot about a couple by the way they interact and how they talk about each other. However, one thing most outsiders can't discern, if both partners work, is which person earns more. Nor might it seem relevant.
Yet earnings can underpin how a couple negotiate, how they communicate, their career aspirations, and how they manage family life. The unchallenged assumption, both in the workplace and in social settings, tends to be that men are the main breadwinners – an assumption that is fast becoming outmoded.
The video below is from a recent event to launch my book "Female Breadwinners: How they Make Relationships Work and Why they are the Future of the Modern Workforce" which I wrote  to get under the skin of what goes on for this growing group of women. To buy your signed copy, click here.