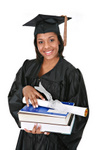 As someone familiar with much of the research on women in the workplace, few articles have caused me such annoyance and dismay. This latest piece of research from Feministing, on the gender pay gap makes one sad
fact clear. Women need to study harder and longer just to earn the same as men with fewer qualifications.
The disparity remains lower down a well, as men with some college but no degree earn the same as a woman with a full university degree.
The report also dispels the argument that women earn less because they work less by  taking time off for childcare. On average, women who work full-time, year round earn 25 percent less than men.
So while we like to reassure ourselves the pay gap has been narrowing, women still must do more to earn the same as a less qualified man. For tips on how you can get recognised and rewarded in the workplace check out our webinar library for female breadwinners.