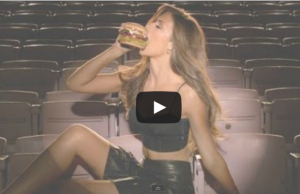 2013 was a mixed year for women in the media. The past year featured many highs. We saw strong female protagonists in 'Gravity' and 'Catching Fire', there were a record number of women directors being nominated for Emmy's, Katie Couric was chosen as Global anchor for Yahoo and Sweden began using gender bias as a new rating for films. However, there were still far too many patronising and cringe worthy moments in 2013 that show just how far we have to go. The representation project created a fantastic video that summarised the year in media for women.
The video, a glimpse at how the media treated women this year, starts off with a celebration. It highlights news which appreciate women for making more progress in the fields of sports, journalism and film making. However, coverage of women soon deteriorates into objectification and stereotyping. Advertising and video gaming deservedly came under particular fire for overly sexualising women, glorifying rape, and photoshopping women's images to create an unrealistic idea of beauty. Political campaigns also used smear tactics to judge strong political contenders on their looks and criticised women politicians as "hysterical", "angry" or "ugly" – clearly characteristics that should keep them out of office.
At Female Breadwinners, we believe media representation needs to change to fit the real women who are a majority of consumers and viewers. As women we need to boycott brands that sexualise and stereotype and demand better coverage for all that women are accomplishing. Media and advertising is consumed by both men and women; anything less than equality in our treatment is bad for both genders and bad for business.