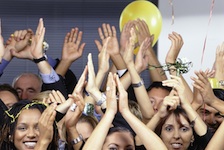 Who hasn't worked with a diabolical boss? It's often said that people don't leave companies, they leave bosses. Terrible managers have a trickle-down effect: they bring down the quality of employees' work and the bottom line with them. Lower retention rates, higher stress levels and low productivity can all be traced back to the bad boss. Getting more women on boards could be a solution to this problem.
A study conducted at Canada's McMaster University surveyed 600 board members of which 75% were male. The women directors consistently outperformed their male colleagues in fairer decision making. They were also prepared to use more initiative in challenging situations. Also, it was reported in the Telegraph in 'Women make better bosses than men', that companies with few female directors may actually be short-changing their investors.
Using some reality checks from this onlinemba.com video on bad bosses, we at Female Breadwinners show how women board members are truly beneficial for your business.
Benefit 1: Women executives build better workplace relationships
Fake sick days, dawdling because of low-motivation, and purposefully making mistakes out of spite are all direct results of a failed manager-worker relationship. Recruitment and new-hire training expenditure and in worst case scenario legal fees are all tangible costs of bad managers. People who are stuck working for difficult managers are more susceptible to illness, adding to the health costs of a company. Lost productivity cost the American economy $360 billion in the past year. Better relationships between employees and bosses would no doubt diminish the number of sick days and improve productivity.
Benefit 2: Women executives reduce company expenditure
Women directors tend to use cooperation, collaboration and consensus-building more often – and more effectively. Women also tend to consult others in the decision-making process, leading to a more cooperative feeling in the firm. After all, we do work harder for people we like and who 'get' us. Having just one woman on board cuts the risk of bankruptcy by 20 per cent (Wilson, 2009). Moreover, inclusive teams perform better during financial crisis.
Benefit 3: Women executives make better decisions
Female directors are more likely to ask questions rather than nodding through decisions (Konrad et al., 2008).  They are also more inclined to make decisions by taking the interests of multiple stakeholders into account. At the board level, where directors are compelled to act in the best interest of the corporation, this quality makes women more effective corporate directors. George McQueen, the professor leading the Canadian study cited above also confirmed "Women seem to be predisposed to be more inquisitive and to see more possible solutions. Men [in the research] were more likely to take decisions based on rules, regulations and traditional methods. Women, however, were more likely to try new ways and 'more prepared to rock the boat'"
Any of these are reasons enough to look at your gender diversity programme as an investment, rather than as a cost. By spending more on building an inclusive leadership team, you would actually be cutting costs in the long term.