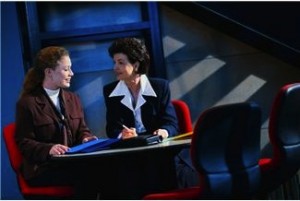 I was recently preparing for a presentation later this month at a global bank. In my research, I found a study suggesting Nordic companies who had the 40% quota of female board representation suffered from a significant reduction in short-term profits. While the data looked sound, it is being used as a tool for suggesting quotas are bad for business. I decided to look beyond the surface of the report: "A Female Style on Corporate Leadership? Evidence from Quotas" by Matsa and Miller of the Kellogg School of Management.
While those Nordic companies affected by quotas indeed suffered from a decline in short term profits, the reasoning instead points to a difference in priorities. They found that female board members didn't fundamentally change the way Boards made decisions in any areas except one – Human Resources. Those firms with women on boards kept employees on through slower periods, when other Nordic companies let people go – those firms thereby maintaining short term profits. Women may have a greater ethic of care when it comes to employee engagement, but we could also argue that women leaders view 'employee hoarding' as a means of ensuring longer-term profits.
Keeping people on during slower period avoids the costs of later recruitment, maintains high morale and improves retention rates. They found no difference in women and men's appetite for mergers, acquisitions and risk-taking and the authors admit: "Men and women may have the same corporate goals but differ in their ability to achieve them. Whatever their motivation, our findings suggest that labor hoarding may be part of a distinctive female leadership style." What bothers me is that this research is being used by anti-quota advocates as evidence that businesses are worse off for the introduction of female leaders onto the Board.
In reality; the research later says: "We find that the gender-quota did not lead to less-profitable business decisions overall – only to changes in human resources management – an outcome that has been linked in gender differences in multiple surveys of business professionals and executives."   As the recent economic crisis shows, decisions taken for short-term profits should not be hailed as evidence to continue 'business as usual'.  In fact, let's consider that the preferences of women to hold onto your most talented people through good times and bad, can actually lead to an increase in longer term profits.