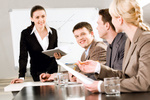 The recent Lord Davies report "Women on Boards" demonstrates how vital it is for UK organisations to have more women on their Board of Directors. A growing body of research shows companies with at least three women on their Board of Directors enjoy greater return on equity and better governance. The concept of women on boards has moved past an optional "nice to have" to a business imperative. This is particularly true for any organisation seeking to avoid group-think and gain from a larger perspective drawn from wider experiences. It seems odd companies would ever expect to get the best results from a leadership team made up of predominantly white men when we operate in an increasingly global marketplace.
While Lord Davies is not yet advocating for quotas in UK boardrooms, he expects significant improvements over the next four years. He has set the standard of one in four board members of FTSE 100 companies to be women by 2015. While I am dubious how much will change without any legislative imperative, the message is clear: boards will improve with more women. He makes ten recommendations, of which you can find more here.
Lord Davies recommends greater transparency from boards in their search and nomination process and a wider range of potential applicants from search firms that look to recruit people on Boards. He is also calling for greater consideration of women from non-traditional corporate backgrounds such as entrepreneurs, academics and civil servants whom could be strong candidates and give a fresh perspective. It is worth noting that while he is not recommending quotas, he does make mention of the Norwegian example, where compliance with their own goals of more female representation on boards was not met after 3 years of 'soft targets' between 2002-2005. He notes that by 2008,  all publicly traded companies in Norway achieved the 40% figure – with a helpful push by legislation enacted in 2005 to ensure compliance. Find more news on female breadwinners here.