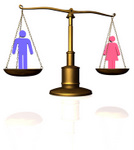 When our sister company InclusIQ were hiring I had a well-intentioned discussion with a supporter of ours. When I asked him how much he thought the role was worth he said: 'I think you could find a good guy to do it for X'. I then said X was higher than we could pay and I named a lower range. He observed: 'Yes, I guess if you focus less on the technical skills you could probably find someone, probably a woman, who would do it for less.' No doubt he didn't intend to be sexist, and was surprised when I reflected back to him he talked of a 'guy' when imagining a higher salary – but only thought 'female' when I countered with a lower number. However, it's these types of 'off the cuff' remarks and mental frameworks that perpetuate the pay gap.
Progress being made on the UK goals of getting at least 25% women on Boards, a new standard will be set from earlier this year – and one that targets pay inequality. A government backed report to be published in October will demand that women occupy at least 25% of the top earning positions at FTSE100 companies by 2020. There are currently only 6 female CEO's of the FTSE100, but the task around pay could be taxing – particularly as women account for less than 9% of the directors on FTSE100 executive committees. Certainly the pay gap increases at the top end of the earning scale. Cynics would say much of the recent progress on Board membership has been made because Board members are external hires – making it easy to cherry pick women and ignore the underlying bias within an organisation.
The top earning positions however, will by default, have to be made up of internal employees. Certainly we've seen an increase in the number of companies asking for help on pay audits and on looking for ways to reduce the bias that perpetuates unequal pay – like the story above. From October, blue chip companies will be encouraged to voluntarily disclose how many women are in their top earning positions. David Cameron will also be launching a plan to force large companies to disclose figures on the gender pay gap among employees, which we hope will do more to look a the pay gap not just at the top – but at the bottom rungs of the socioeconomic scale where every extra pound counts all the more.