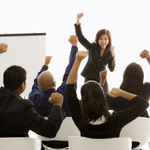 I often find interesting articles in the Sunday Times Style magazine related to working women. Recently though I loved a feature called 'Cherchez La Femme' about moving from being a girl to becoming a woman. These thoughts in particular resonated with me:
'When other women are no longer the enemy'
'When you acquire your first protege'
'When you want to walk into a party on your own'
And here are some of my own:
You realise it's better to have 3 close friends your whole life than a gaggle of acquaintances you feel guilty about not keeping in touch with
In Autumn you are happy to reach for your trusty opaque tights
You order what you want from the menu rather than picking around a salad
The home section of TKMaxx holds more appeal than the clothes
In meetings you use 'In my opinion' rather than 'It's only my opinion but'
I realised that the subtle change comes when you no longer feel the need to please others and are confident in just being yourself. You don't see other women as competition. So I recommend you enjoy being a woman by burning your scented candles, wear your best jewellery, and invest in lovely sheets – just for you. A woman doesn't wait for special occasions but makes every day special instead. I would love to hear your 'I knew I was a woman when' stories so please leave them in the comments below.
For career strategies for women in business check out Beyond the Boys' Club: Strategies for Achieving Career Success as a Woman Working in a Male Dominated Field